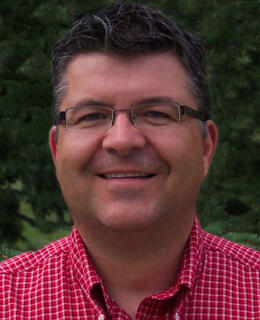 Dr. Jürgen Gailer, PhD
Positions
Member
Arnie Charbonneau Cancer Institute
Background
Educational Background
Doctor of Philosophy Chemistry, Karl-Franzens University, Graz, 1997
M.S. Chemistry, Karl-Franzens University, Graz, 1992
Biography
J. Gailer was born in Geislingen, Germany and received his PhD from the University of Graz/Austria in 1997. As an Erwin Schroedinger fellow he moved to the Department of Molecular and Cellular Biology of the University of Arizona (Tucson, USA) and subsequently transferred to the Department of Nutritional Sciences as a research associate. He moved to the GSF National Research Center for Environment and Health in Munich, Germany in 2001, where he was an Alexander von Humboldt fellow until 2002. In 2003, he became team leader in biopharmaceutical production at Boehringer Ingelheim in Vienna, Austria and joined the Department of Chemistry at the University of Calgary in 2004 where he is an Associate Professor.
Research
Areas of Research
Area of Focus
Bioinorganic Chemistry
Toxicology
Analytical Chemistry
Summary of Research
We employ liquid chromatography-based bioanalytical techniques to probe bioinorganic chemistry-related mechanisms that take place in the mammalian bloodstream. In particular, we pursue three specific research goals.
Firstly, we are interested in elucidating toxicologically relevant biotransformations of environmentally abundant toxic metals and metalloid compounds in the bloodstream since these reactions will fundamentally determine the toxic effect at the organ level. Since numerous toxicological studies have demonstrated that toxic metals and metalloid compounds (which are ingested via the diet and drinking water) can adversely affect the metabolism of simultaneously ingested essential elements, we aim to elucidate the underlying molecular mechanisms. To this end, we have structurally characterized two previously unknown metabolites which are formed in the mammalian bloodstream. The fact that these compounds contain As-Se and Hg-Se bonds implies that intestinally absorbed Hg2+ and H3AsO3 (arsenite) will adversely affect the metabolism of selenium. Hence, these metabolites are likely to play a fundamental role in the molecular mechanism underlying the chronic toxicity of Hg2+ and H3AsO3 (in humans.
The second major thrust in our group is the application of a recently developed instrumental analytical technique, which is based on the hyphenation of size exclusion chromatography (SEC) with an inductively coupled plasma atomic emission spectrometer (ICP-AES), to directly analyze mammalian plasma for the contained Cu, Fe and Zn-containing metalloproteins. Since it is well known that certain human diseases are associated with increased or decreased plasma concentrations of certain metalloproteins (e.g. Wilson's Disease patients have a greatly decreased concentration of the plasma Cu-metalloprotein ceruloplasmin), the potential of this technique to diagnose human diseases is currently being investigated.
The third research direction focuses on the application of the developed SEC-ICP-AES technique to study the transport of biologically active metal/metalloid-containing compounds (e.g. toxic metals, metalloid compounds) in blood plasma in vitro. This is accomplished by the addition of the compound of interest to plasma and its subsequent analysis by SEC-ICP-AES. Monitoring the emission lines of the element of interest in addition to those of Cu, Fe, and Zn is used to gain insight into the fate of the compound of interest in the bloodstream.
Courses
| Course number | Course title | Semester |
| --- | --- | --- |
| CHEM 315 LAB 03 B03 | AnalyChem:IntroInstrumentAnaly | 2020 |
| CHEM 315 LAB 02 B02 | AnalyChem:IntroInstrumentAnaly | 2020 |
| CHEM 315 LAB 04 B04 | AnalyChem:IntroInstrumentAnaly | 2021 |
| CHEM 315 LAB 06 B06 | AnalyChem:IntroInstrumentAnaly | 2021 |
| CHEM 541 LEC 01 01 | (BCEM 541) Biochem Toxicology | 2020 |
| CHEM 641 LEC 01 01 | Biochemical Toxicology | 2020 |
| ENSC 502 LEC 01 01 | Spec Problems In Environ Mgmt | 2020 |
| CHEM 315 LAB 01 B01 | AnalyChem:IntroInstrumentAnaly | 2021 |
| CHEM 315 LAB 05 B05 | AnalyChem:IntroInstrumentAnaly | 2021 |
| CHEM 315 LAB 07 B07 | AnalyChem:IntroInstrumentAnaly | 2021 |
| CHEM 315 LEC 01 01 | AnalyChem:IntroInstrumentAnaly | 2021 |
| CHEM 70129 LEC 01 01 | Independent Study | 2021 |
| ENSC 501 LAB 01 B01 | ENSC Field Course II | 2021 |
Publications
Quantification of metalloproteins in blood serum of stroke patients and healthy controls.

G. Hunter; S. Sarpong-Kumankomah*; J. Gailer; F. Popescu; H. Nichol; M. Kelly; K. Knox. (2017)

Environmentally relevant concentrations of aminopolycarboxylate chelating agents mobilize Cd from humic acid.

J. Gailer; A. R. Bellavie*; A. E. North*; S. Sarpong-Kumankomah*. (2017)

Remarkable differences in the fate of Cd2+, Hg2+, CH3Hg+ and thimerosal in red blood cell lysate.

S. Sarpong-Kumankomah; J. Gailer; M. A. Gibson*. (2017)

New insight into the bioinorganic chemistry of [(GS)2AsSe]- in human blood plasma.

S. Sarpong-Kumankomah*; J. Gailer. (2019)

Probing the interaction of cis-platin with plasma proteins to gain new insight into its toxic side effects..

Jurgen Gailer; T Morris; * Narendran A. (2012)

Improved selectivity of ZnNa3DTPA to abstract Cd2+ from plasma proteins in vitro.

E* Jahromi; Jurgen Gailer. (2013)

Bioavailable chelating agent metal complexes as emerging environmental contaminants?.

J. Gailer; S. Sarpong-Kumankomah; T. K. Sander*; A. Gautam. (2019)

The molecular basis for the selenium-mediated arsenic excretion in mammals.

K Strait; I Pickering; E Leslie; Jurgen Gailer; G George; Ponomarenko O (presenter); P LaPorte; J Spallholz. (2013)

Molecular mechanisms of selenium counteracting arsenic toxicity.

P LaPorte; K Strait; O Ponomarenko; Spallholz J (presenter); E Leslie; I Pickering; Jurgen Gailer; G George. (2013)

Effect of plasma protein concentrations on the metabolism of cis-platin in vitro.

M Morris; Jurgen Gailer; * Narendran A. (2013)

Platinum-based Anticancer Drugs.

M* Sooriyaarachchi; Jurgen Gailer. (2014)

Dynamic protein binding of cisplatin in human plasma in vitro.

G George; * Pickering I; Jurgen Gailer; M Sooriyaarachchi. (2013)

Different plasma protein binding of structurally related metallodrugs as visualized by SEC-ICP-AES.

N Ng; T Morris; Jurgen Gailer; A Krause-Heuer; * Aldrich-Wright J; B Harper. (2013)

Structural characterization of Cd2+-DMSA and Cd2+-DMPS complexes..

E Jahromi; G George; I Pickering; * Gailer J. (2012)

Deconstructing the LC derived metalloprotein profile of human blood plasma.

J. Gailer; S. Sarpong-Kumankomah*. (2018)

Tuning the metabolism of metal-based drugs with chemoprotective agents to improve their safety.

J. Gailer*; M. Sooriyaarachchi; M. A. Gibson; S. Sarpong-Kumankomah. (2018)

Mobilization of Cd2+ from blood plasma proteins by chelating agents evidenced by SEC-ICP-AES.

* Gailer J; G George; E Jahromi; I Pickering. (2012)

Structural basis for the amelioration of cisplatin–induced toxic side-effects by sodium thiosulfate (Poster Award, 2nd place in category PhD candidate).

Jurgen Gailer; * Pickering I; G George; M Sooriyaarachchi. (2014)

Impact of wastewater effluent on the biogeochemical cycle of Cd.

A* Bellavie; Jurgen Gailer. (2016)